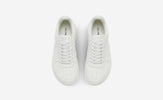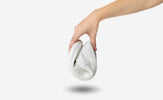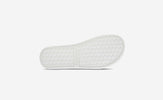 Naturally shaped footwear to build strong & healthy feet
Unites barefoot functionality and style
Vegan & water-repellant soft faux leather




Details
Unisex
Great shoes for everybody.
Materials
All materials and dyes tested to EU REACH standards: vegan PU leather (upper), TENCEL™ Lyocell & recycled PET (lining), recycled PET (laces), recyclable rubber (sole), microsuede (non-removable insole)
Measurements
Weight per shoe: 310 g / 10.9 oz (Size EU 43), Sole thickness / stack height: 5 mm / 0.2 in
If you are a barefoot shoe beginner, consider inserting one of our insoles (available separately in our online store).
Care Instructions
Remove all loose dirt with a soft shoe brush. If necessary, go in with a clean, soft brush to apply some lukewarm water and a mild cleaning solution. Wipe any excess product with a moist cloth. Air dry at room temperature after cleaning or when the shoes got wet.
Courtside is not machine washable.
Note: The shoes are not suitable for activities that cause a lot of friction on the sole, as this can damage the soft sole.
Customer Reviews
LOVE LOVE LOVE!
I LOVE THESE SHOES THEY ARE SO COMFORTABLE, I WILL GET ME THE RED ONES NEXT
Comfy and so cute
I like these a lot. They are extremely comfortable and I love the way they look. Water stays out fairly well (not completely since there are holes at the top of this design). I can walk around in them for several hours and not feel any pain. Any soreness I do feel is from the muscles building in my feet, which never lasts long and is only noticeable when I am using my feet (same as any muscle soreness after exercise). You know it's good for your feet when the dirt builds everywhere on the sole except for around the arch of your foot!
happy, but not perfect
In short I like the look and feel. They seem decent quality, though maybe lower quality than I would expect for the price. And look way better than any other shoe that fits my toe spreaders - except maybe classic Birkenstocks.
I wish they were real leather, the faux leather doesn't flex and bend quite right. For example when I step, the front section of the shoe really pinches my toe bridge on both feet. I have only worn them 4-5 times so I imagine this will soften with wear. I'm very curious how long they'll hold up, but for casual wear at work and biking they're great so far. If they soften with wear I will happily buy again.
Hi Patrick,
Thank you for sharing your feedback with us. We're glad to hear that you like the look and feel of our Courtside sneakers.
Regarding your concern about the faux leather, we appreciate your understanding that it may soften with wear. In a similar instance reported by another customer, the pinching sensation in the 'eyestay' area eased after wearing the shoes a few times. This is because the faux leather tends to become softer over time, contributing to a more comfortable fit.
We value your input, and it helps us in our ongoing efforts to enhance our products. If you have any further questions or if there's anything else we can assist you with, please feel free to reach out to our customer service team at feelgrounds.com/contact. We're here to ensure your experience with Feelgrounds is as positive as possible.
Best regards,
Sabine